The New Encyclopedia of Modern Bodybuilding: The Bible of Bodybuilding, Fully Updated and Revised
From elite
bodybuilding
competitors to gymnasts, from golfers to fitness gurus, anyone who works out with weights must own this book – a book that only Arnold Schwarzenegger could write, a book that has earned its reputation as "the bible of bodybuilding." Inside, Arnold covers the very latest advances in both weight training and bodybuilding competition, with new sections on diet and nutrition, sports psychology, the treatment and prevention of injuries, and methods of training, each illustrated with detailed photos of some of bodybuilding's newest stars. Covering every level of expertise and experience, with his unique perspective as a seven-time winner of the Mr. Olympia title, The New Encyclopedia of Modern Bodybuilding will help you achieve your personal best.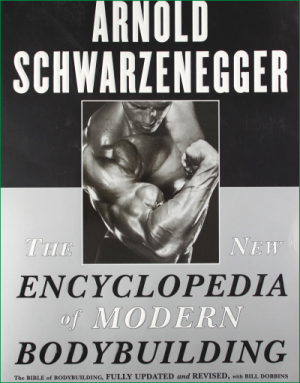 Arnold Schwarzenegger hasn't competed as a bodybuilder since he won the Mr. Olympia title in 1980, but he remains the sport's No. 1 icon.
He hosts an annual bodybuilding contest in Columbus, Ohio, and allows a column to be ghost-written under his name in a muscle magazine.
Today's bodybuilders may have bigger muscles than Arnold ever did, but everyone inside and outside the iron game gives him credit for exponentially broadening the popularity of physique training.
With this updated Encyclopedia (it was originally published in 1985), Schwarzenegger wraps his huge arms around the entire sport. He hits the history of bodybuilding, the champions (he's quite generous in his praise of predecessors, contemporaries, and successors alike), the training systems. Some of the information is more bodybuilding lore than science; for example, exercises are said to "expand the rib cage" or develop the "inner" or "outer" chest, all physiological impossibilities. But they're still good exercises, and the book includes every movement imaginable for every muscle group.
If you love the sport of bodybuilding, you'll want this book in your library, if for no other reason than to feast your eyes on the hundreds of photos of the best physiques in the history of the sport. And, in a pinch, the 800-page encyclopaedia can fill in nicely for a missing dumbbell. –Lou Schuler —
About the Author
Arnold Schwarzenegger served as governor of California from 2003 to 2011. Before that, he had a long career, starring in such films as the Terminator series; Stay Hungry; Twins; Predator; and Junior. His first book, Arnold: The Education of a Bodybuilder, was a bestseller when published in 1977 and, along with his Encyclopedia of Modern Bodybuilding, has never been out of print since.